You don't need to leave the comfort of your home to find new tires. You can use our website to see the tires that are a perfect match for your vehicle. All you need to provide is basic information about your vehicle to be presented with a list of different tires that are a perfect fit. You can see reviews of each tire and what they can do for your vehicle, giving you the information you need to make your final decision.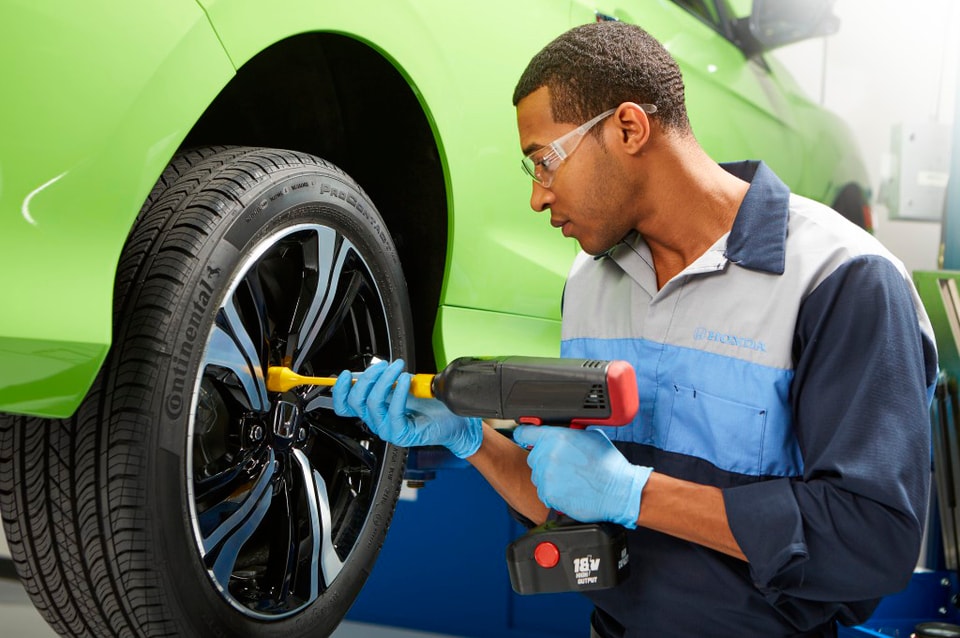 Learn More About Your Honda Tires at Hendrick Honda Woodbridge
Tires are an often-overlooked part of your vehicle, but our team wants to give you the information you need to care for them. Hendrick Honda Woodbridge makes sure you don't ignore the importance of tires and the traction they provide. We'll work with you to see the condition of your current tires and help you choose new ones when needed.
Having the right tires provides the best performance and safety on every road, highway, and trail. We look forward to answering all your questions and providing the Honda services you'll want throughout your time of ownership.
Tire Inspections Keeping Your Honda Performing its Best
You should do a visual inspection of your tires monthly to ensure the treads, sidewall, and air pressure stay in an acceptable range. Each area of your tire contributes to the dependability that Honda models are known for. Deterioration or improper care of your tires will accelerate how quickly they break down or cause potential safety issues. We encourage you to reach out to our team to avoid those issues.
Our team will do tire inspections with every routine service appointment. We'll do a visual inspection as you would but have specialized tools to check alignment, balancing, and more. Every part of a tire service appointment extends the lifespan of your tires by making sure they wear evenly.
Find Tire Replacements at Hendrick Honda Woodbridge
There are many measurements on a tire that needs to match your vehicle. The numbers and letters you see on the side of a tire indicate tire size, type, speed rating, and more. We decipher these digits to pair you with the perfect tires for your Honda. Our experts can work with you to find new tires for your Honda Civic, Honda Ridgeline, Honda CR-V, or Honda Accord, ensuring you'll appreciate every minute you spend in the driver's seat.
When you're looking for expert technicians to find new tires and mount them onto your vehicle, our Woodbridge, VA service center should be your top choice. Other auto shops or service centers don't have the same experience with Honda models, giving us the edge when you want a team you can trust. Be sure to reach out with any questions about your tires or Honda servicing.
Learn More About Buying Honda Tires at Hendrick Honda Woodbridge
Every driver needs tires they can rely on, and our team makes sure they are easy to find. Whether you buy online or at our dealership, you will get the excellent customer service our dealership is known for. Our goal is to be your first choice for all your automotive needs, whether that's a tire rotation or an oil change, by giving you the best dealership experience and offering everything you will need for the road ahead.
Make an Inquiry
* Indicates a required field