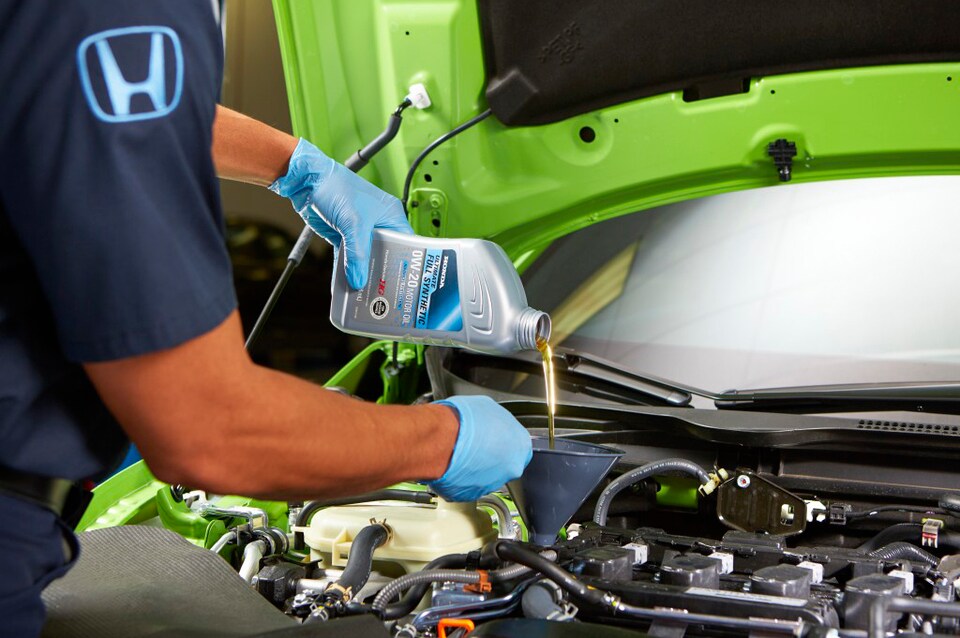 Common Questions About Oil Changes at Hendrick Honda Woodbridge
Our team ensures every Honda car, truck, and SUV has the best opportunity to get the service appointments that keep them performing their best. Hendrick Honda Woodbridge can answer all your servicing questions and help you see why to schedule your oil change with our team.
Oil changes are just one part of routine maintenance. Oil is a vital component for your engine because it reduces friction to keep your engine from overheating and reduce the chance of parts breaking. Hendrick Honda Woodbridge looks forward to helping you see the benefits of keeping up with routine oil changes.


Honda Oil Change FAQ
How Often Do I Need an Oil Change?
The frequency of your Honda oil change depends on your vehicle, its model year, and your driving habits. For the most part, you should consider getting your oil changed with an average interval of 5,000 miles. Some vehicles can go longer, and some will be slightly shorter; a member of our team can help you decide how often to schedule an oil change.
What Happens if I Don't Get my Oil Changed?
Skipping oil changes can cause damage to your vehicle. Without lubrication, your engine will have metal-on-metal contact that leads to overheating. Oil changes keep your vehicle in the best condition throughout years of ownership, allowing you to have the best performance whenever you're driving. We'll work with you to make sure you never miss an oil change appointment!
What do Service Technicians do During an Oil Change?
Our team drains your old oil, replaces your oil filter, and adds new oil to your Honda. Old oil gets thicker the longer you go without an oil change, making it clog the filter and less effective at what it needs to do. Our expert service technicians will keep your oil and filter doing their jobs so you can experience less stress whenever you're in the driver's seat.
What Kind of Oil Do I Need?
There's a wide range of oil options on the market for different seasons, vehicle types, and performance for your vehicle. We can get to know what you want your vehicle to do so that we can replace it with the proper type of engine oil. The right oil ensures you get the best driving experience, and that is what you deserve in your Honda.
Scheduling Your Oil Change with Hendrick Honda Woodbridge
We make it as easy as possible to schedule an oil change - or any service appointment - for your Honda. You can schedule your Honda service appointment online, call our team, or visit our dealership to find the time that's best for your lifestyle. With a team specializing in servicing your Honda Civic, Honda Ridgeline, Honda Passport, Honda CR-V, and all other new Honda models, it is easy to see what makes our dealership a top choice for service appointments.
Learn More About Honda Servicing with Our Woodbridge Service Center
Servicing your vehicle is an essential part of ownership. Oil changes, brake inspections, tire rotations, and other services are parts of routine service inspections that see wear and tear whenever you're driving. We do every repair with genuine Honda parts to ensure you will always rely on your Honda. All it takes is one trip to our dealership to get started.
We've tried to address the most common questions about Honda oil changes, but don't hesitate to reach out if there are any other questions you have!
Make an Inquiry
* Indicates a required field
Hours
Monday

9:00AM - 8:00PM

Tuesday

9:00AM - 8:00PM

Wednesday

9:00AM - 8:00PM

Thursday

9:00AM - 8:00PM

Friday

9:00AM - 8:00PM

Saturday

9:00AM - 8:00PM

Sunday

11:00AM - 6:00PM