| | |
| --- | --- |
| | |
| Honda HR-V | Subaru Crosstrek |
Comparing Popular Features and Traits of the 2023 Honda HR-V and the 2022 Subaru Crosstrek
SUVs provide spacious interiors and dependable performances, making them a great choice for various drivers. Our team wants to give you a closer look at the traits and features of popular SUVs so you can decide which is right for you. The 2023 Honda HR-V and 2022 Subaru Crosstrek draw lots of attention, and we'll help you see which offers everything you need.
The 2023 Honda HR-V is redesigned for its newest release. With a reshaped body, new performance options, and more, it is easy to see what makes it a popular choice. The modern design focuses on athleticism and elegance to separate it from previous model years. The larger body provides more interior space and a smooth driving experience. We look forward to helping you see what could make it the right choice.
Another popular vehicle in this class is the 2022 Subaru Crosstrek. The Crosstrek follows the Subaru tradition of being reliable and athletic with many standard features. A head-to-head comparison of the 2023 Honda HR-V and 2022 Subaru Crosstrek will help you see which model comes out on top. Our goal is to get you into a vehicle that matches your lifestyle, and our comparisons help simplify that process.
We've researched each model to put all the most relevant information in one place. You won't need to spend hours researching when you choose to shop at our dealership. We want it to be as easy as possible for you to find an SUV that suits your needs, and we're happy to answer any questions that will help you make your final decision.
Our comparison provides the information you need to buy an SUV you will love for years. The 2023 Honda HR-V and 2022 Subaru Crosstrek are strong competitors that might seem difficult to distinguish, but you don't need to do it alone. We can help you see every similarity and difference so you can feel confident with the one you drive home in.
Explore our selection of new Honda models after reading our comparison to better understand what the 2023 Honda HR-V offers.
Make an Inquiry
* Indicates a required field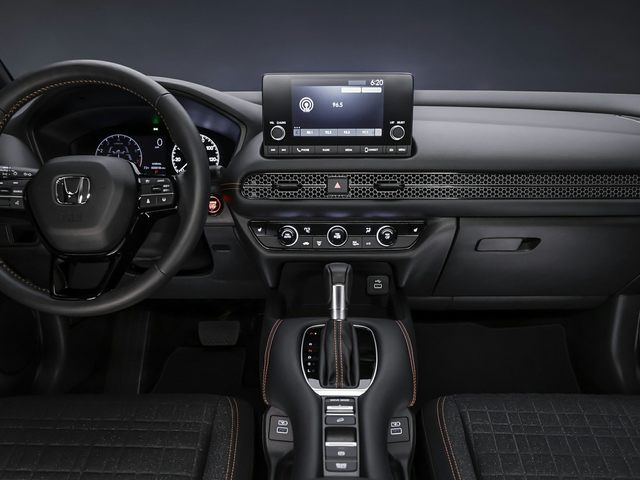 2023 Honda HR-V vs 2022 Subaru Crosstrek
Drivers can choose between front-wheel drive and all-wheel drive in the 2023 Honda HR-V. The Crosstrek is only equipped with all-wheel drive.
The 2023 Honda HR-V has a more powerful engine than the 2022 Subaru Crosstrek.
The 2022 Subaru Crosstrek needs an upgrade to include a CVT, but the 2023 Honda HR-V includes it as a standard feature.
The 2023 Honda HR-V has a larger infotainment screen than the 2022 Subaru Crosstrek.
You can add a dual-zone automatic climate control system to the 2023 Honda HR-V, but not the 2022 Subaru Crosstrek.
Honda Sensing® comes equipped on every 2023 Honda HR-V to ensure you have the features that keep you ready for even the heaviest traffic. You need to upgrade the 2022 Crosstrek for a similar selection of features.
Both models have available leather-trimmed seats if you are looking to add more sophisticated materials.
There's more cargo space behind the rear row of seats for the 2023 Honda HR-V, giving it a better balance of passenger and cargo space.
Apple CarPlay® and Android Auto™ integration for both models ensure you can access your smartphone to listen to your favorite songs and use needed apps.
LED headlights are equipped on every trim of the 2023 Honda HR-V, which the 2022 Crosstrek limits to upgraded models.